Presenting our ideas or concepts to an audience in a professional way is essential in business. Making a presentation with impact requires us to be competent, confident and clear.

In this training, you learn how to master the mindset and the techniques for giving a killer presentation.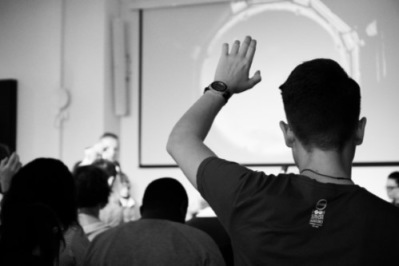 The training is hands-on and practical and provides you with skills to immediately apply back in your workplace.
Example of content, depending on your requirements
Essential delivery skills
Overcoming discomfort and nervousness
Designing memorable presentations
Understanding rhetoric
Designing and delivering visuals
Planning persuasive messages
Making messages stick
Inspiring an audience to buy in to your message
Connecting with and captivating an audience
Storytelling techniques
Rehearsal techniques
Vocal techniques for performance stability
Handling audience questions and objections
The trainers
Key's trainers are specialists in their subject areas and bring their hands on experience and knowledge to the training. They are academically educated and highly skilled in delivering courses, seminars, lectures and coaching.


Customised to your needs and goals

We have trained thousands of people in presentation skills. We offer face-to-face or blended solutions, starter level or advanced level, for groups or individuals - whatever you prefer. If you want to become a great speaker, this is the training for you.

Presentations training can be 1-3 days, seminars or lectures, designed to meet your goals. You can also get individual coaching to focus on design and delivery for a specific presentation.
Examples of Presentation training
Ericsson Presenter Coaching for hundreds of speakers at PPM Seminar, Leadership Summit, Innovation Days and Customer Events
'Presentation Skills' training (basic and advanced) for Ericsson staff in over 35 local Ericsson offices
'Presentations for Sales Excellence' for over 200 sales professionals at BillerudKorsnäs
'Persuasive Presentations for Public Servants' on Sida/PRV International program for patent legislation development
I learned how to deal with the audience, manage my anxiety, and acquired more self confidence. The trainer had excellent knowledge and high experience in transferring it.
Participant EA DICE